Metal Small Slurry Pump

Introducon:
SH-25B is the smallest metal lined slurry pump model from SH series slurry pumps with a discharge size of only 1-inch. Slurry pumping, being the foundation of all wet mineral processing, was becoming more and more important to customers.
In all wet industrial processes "hydraulic transportation of solids" is a technology, moving the process forward between the different stages of Solid/Liquid mixing, Solid/Solid separation, Solid/Liquid separation, etc.
Solids can be almost anything that is Hard, Coarse, Heavy Abrasive, Crystalline, Sharp, Sticky, Flaky, Long fibrous, Frothy. You name it - it can be transported hydraulically!
In most applications the liquid is only the "carrier". In 98% of the industrial applications the liquid is water. Other types of liquids may be chemical solutions like acids and caustics, alcohol, light petroleum liquids (kerosene), etc.
End suction, split-case, centrifugal slurry pump has set the world standard for heavy duty abrasive pumping applications for decades. Selected applications are wet crushers, SAG mill discharge, coal prep, cyclone feeds etc.. Metal lined slurry pump is widely used to handle slurries with pH value from 5-14.
A brief introduction of the slurry pumps we offer:
Slurry Pump Series:
1. Metal Lined Slurry Pump, SH Type; 2. Rubber Lined Slurry Pump (SHR Type); 3. Hi-Pressure Slurry Pump (SBH Type);
Gravel Pump Series:
1. Hard Metal Sand Pump (SG, SHG Type); 2. WN Dredging Pump (WN Type);
Sump Pump Series:
1. Metal Vertical Slurry Pump (SV Type); 2. Rubber Vertical Slurry Pump (SVR Type);
Local Pump Series:
1. Power Plant Slurry Pump (ZBG Type); 2. Coal Washing Slurry Pump (ZJ Type);
Froth Pump Series
Specifications of Slurry Pump:
| | |
| --- | --- |
| Model | SH-25B |
| Outlet | 1-inch |
| Capacity | 12.6-28.8m3/h |
| TDH | 6-68m |
| Rated Motor Power | 15Kw |
| Speed | 1200-3800r/min |
| NPSH | 2-4m |
Construction of SH Metal Lined Slurry Pump: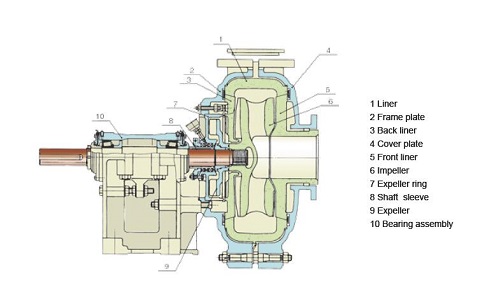 Standard Material of Wet-end Parts: Hi-Chrome Alloy A05

Typical Applications:
Tailings
Heavy Mining
Ash Handling
Cyclone Feeds
Pulp and Paper
Abrasive Slurries
Coal Preparation
Mineral Processing
Aggregate Processing
Heavy Refusal Removal
Performance Curve of Slurry Pump SH/25B: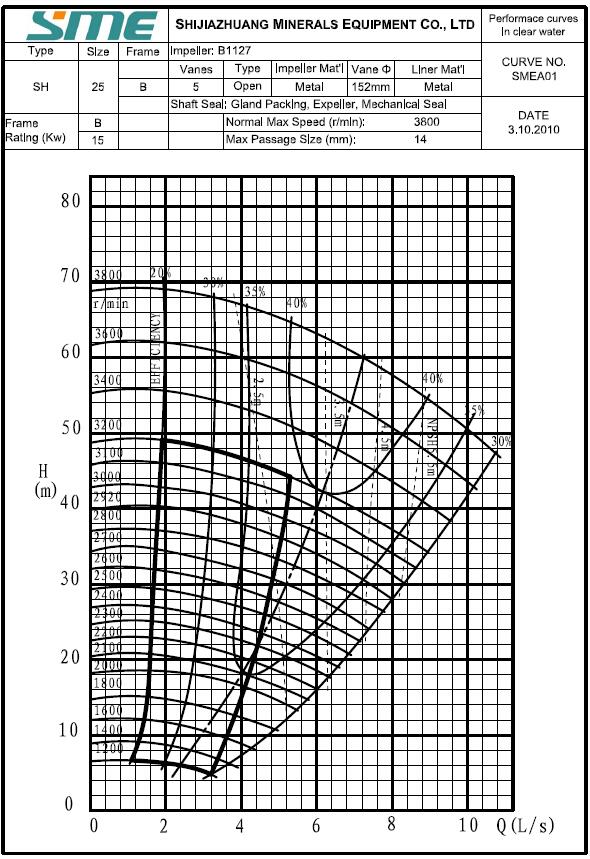 Projects with SME SH Slurry Pump: