Directe koppeling aangedreven metalen drijfmestpomp

Invoering:
Drijfmestpomp wordt veel gebruikt voor ertsen, mijnen, residuen en minerale verwerking, en wordt ook aangetroffen in prestaties in steengroeven, krachtcentrales, breekinstalllaties enz. De voordelen worden nu meer en meer geaccepteerd door de eindgebruikers.

Drijfmestpompen, ongeacht de met metaal beklede mengmestpompen of met rubber beklede mengmestpompen, moeten worden aangedreven door motoren, hetzij dieselmotoren, hetzij elektromotoren. En de configuraties worden aangedreven door directe koppeling of riem (riemschijf). Nu willen we de methode van directe koppeling aangedreven weergeven.
Wanneer de snelheden van de drijfmestpompen en elektromotoren hetzelfde zijn, bijvoorbeeld, zijn de snelheden beide 980 tpm, dan kunnen we koppeling gebruiken om de as van de pomp en de motor aan te sluiten. Anders kunnen we de twee assen van de motor en de pomp niet rechtstreeks verbinden.
Onze missie is om de voorkeursleverancier van de mijnbouw en de industrie te zijn van vooraanstaande producten en diensten door de hele wereld.
We bereiken dit door: constante levering, kwaliteit te bieden. De verwachtingen van onze klanten overtreffen wat betreft service, betrouwbaarheid en geloofwaardigheid. Alleen de producten met de hoogste prestatie selecteren. De nadruk leggen op gezondheid, veiligheid en het milieu, niet alleen intern als bedrijf, maar ook extern in lijn met onze fabrikanten en klantverwachtingen. Ons bedrijf verbinden met onze leveranciers en klanten om snellere en betere oplossingen te vinden om aan de behoeften van de sector te voldoen.
Een korte introductie van de drijfmestpompen die wij aanbieden:
Slurry-pompserie:
1. Metaal Gevoerde Drijfmestpomp, SH Type; 2. Rubber-beklede drijfmestpomp (SHR-type); 3. Hi-Pressure Slurry Pump (SBH Type);
Gravel Pump-serie:
1. Hard metaalzandpomp (SG, SHG-type); 2. WN Dredging Pump (WN Type);
Opvangbak serie:
1. Metalen verticale drijfmestpomp (SV-type); 2. Rubber verticale drijfmestpomp (SVR-type);
Lokale pompserie:
1. Power Plant Slurry Pump (ZBG Type); 2. Kolenwassing drijfmest pomp (ZJ Type);
Schuim pomp serie
specificaties:
| | |
| --- | --- |
| Model | SH-50C |
| Outlet | 2-inch |
| Capacity | 39.6-86.4m3/h |
| TDH | 12-64m |
| Rated Motor Power | 30Kw |
| Speed | 1300-2700r/min |
| NPSH | 4-6m |
Standaard materiaal van natte delen: Hi-Chrome Alloy A05
| | | | | | | | | | | | | | |
| --- | --- | --- | --- | --- | --- | --- | --- | --- | --- | --- | --- | --- | --- |
| Designation | Material Name | C | Mn | Si | Ni | Cr | Mo | Cu | P | V | S | Description | Hardness |
| A05 | Ultrachrome | 2.92 | 0.98 | 0.54 | 0.8 | 26~28 | ≤0.8 | ... | 0.062 | .. | 0.051 | 27% Cr Erosion Resistant White Iron | 58-62HRC |
SH Series Metal Slurry Pump Specifications & Prices
Pump
Model
S×D
(inch)
Allowable
Max. Power (kw)
Material
Clear Water Performance
Impeller
Capacity Q
Head
H(m)
Speed
n(r/min)
Max.Eff.
η%

NPSH
(m)
No. of
Vanes
Vane Dia.
(mm)
Weight
(kg)
Impeller
m

3

/h

l/s
SH/25B
1.5×1
15
Metal
(A05)
12.6-28.8
3.5-8
6-68
1200-3800
40
2-4
5
152
91
SH/40B
2×1.5
15
32.4-72
9-20
6-58
1200-3200
45
3.5-8
184
118
SH/50C
3×2
30
39.6-86.4
11-24
12-64
1300-2700
55
4-6
214
191
SH/75C
4×3
30
86.4-198
24-55
9-52
1000-2200
71
4-6
245
263
SH/75D
4×3
60
245
363
SH/100D
6×4
60
162-360
45-100
12-56
800-1550
65
5-8
365
626
SH/100E
6×4
120
365
728
SH/150E
8×6
120
360-828
100-230
10-61
500-1140
72
2-9
510
1473
SH/150F
8×6
260
510
1496
SH/150R
8×6
300
510
1655
SH/200F
10×8
260
612-1368
170-380
11-61
400-850
71
4-10
686
3193
SH/200ST
10×8
560
612-1368
170-380
11-61
400-850
71
4-10
686
3750
SH/250F
12×10
260
936-1980
260-550
7-68
300-800
82
6
762
3760
SH/250ST
12×10
560
936-1980
260-550
7-68
300-800
82
6
762
4318
SH/300ST
14×12
560
1260-2772
350-770
13-63
300-600
77
3-10
965
6409
SH/350TU
16×14
1200
1368-3060
380-850
11-63
250-550
79
4-10
1067
10000
Bouw van Heavy Duty Drijfmestpomp: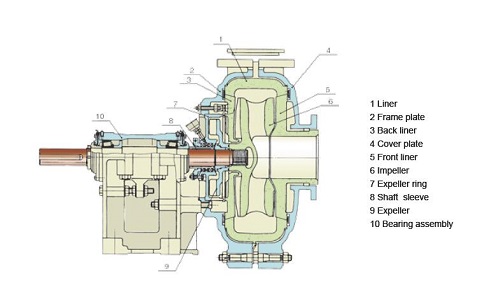 Typische applicaties:
afval
Zware mijnbouw
Ash Handling
Cyclone-feeds
Pulp en papier
Schurende slurries
Kolen voorbereiding
Verwerken van mineralen
Aggregate Processing
Zware weigering verwijderen
Prestatiecurve: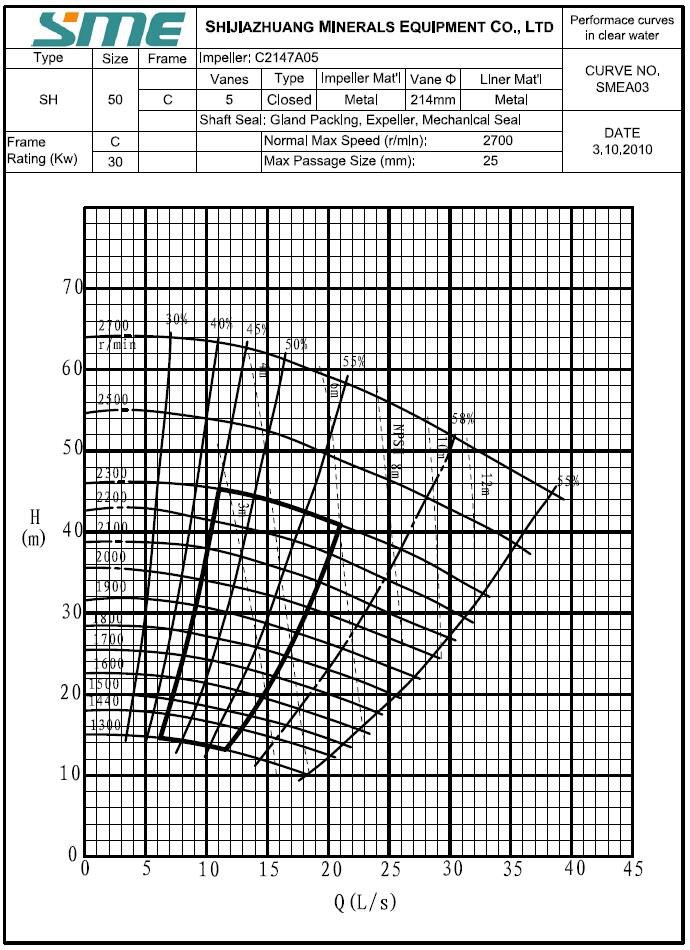 Drijfmestpompen door MKB-bedrijf: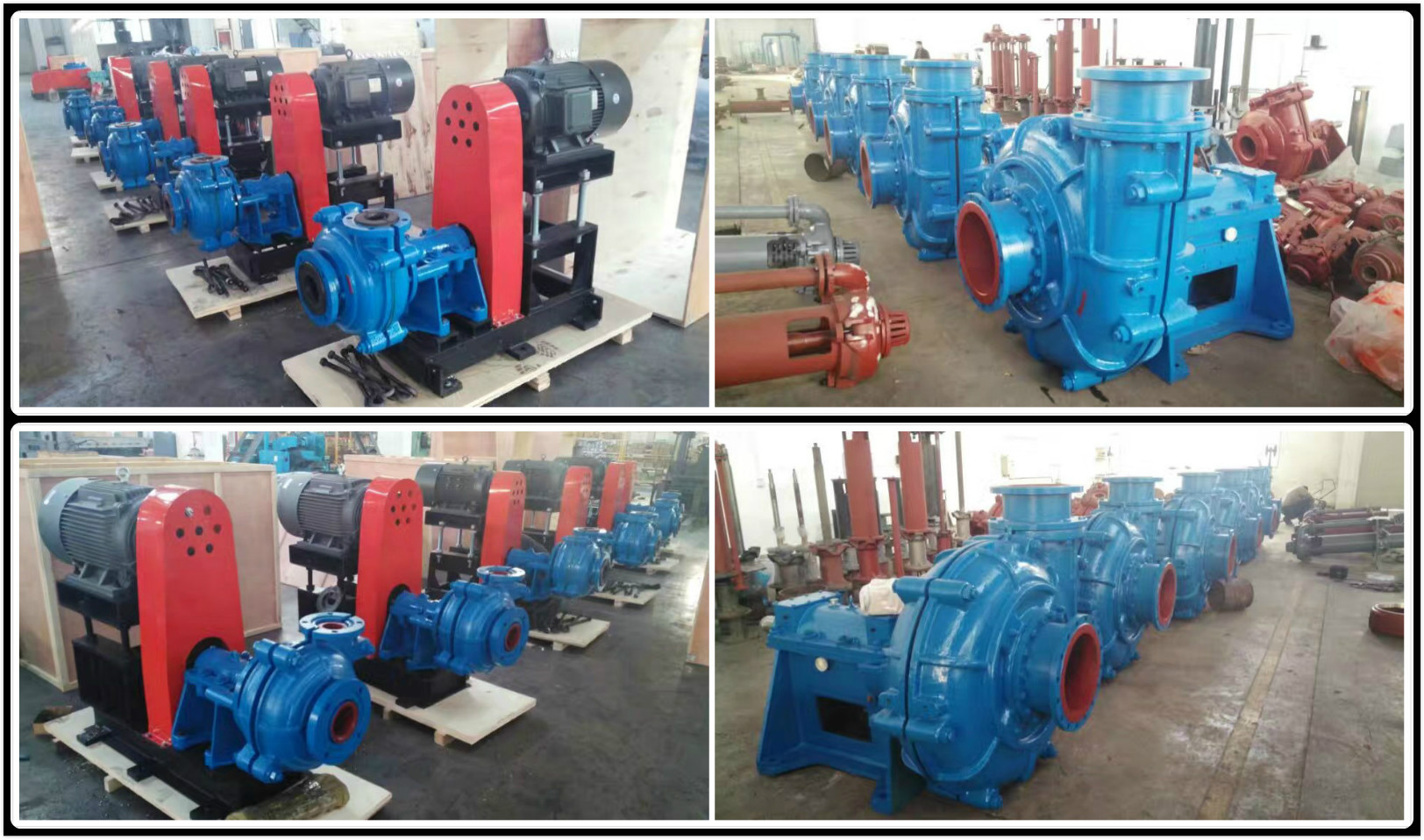 Projecten met Heavy Slurry Pumps: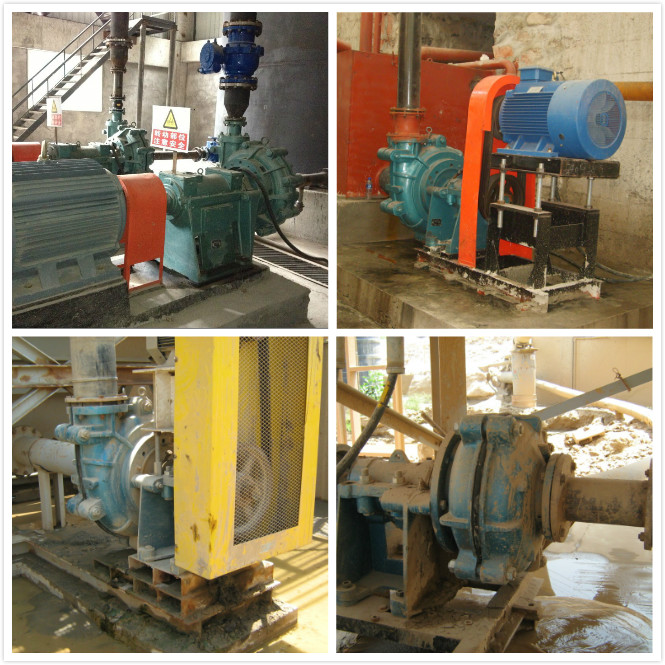 Product Categorie : Slurry Pomp > Metaal bekleed drijfmest pomp