Bare Shaft metaalhoudende drijfmestpomp

Invoering:
Kale slurrypomp betekent dat alleen de drijfmestpomp zelf aanwezig is, niet inclusief andere apparatuur zoals elektrische motoren, accessoires zoals riemen en riemschijven. Bare-as-slurry-pomp verwijst naar het pompuiteinde en de rotordelen. Het pompeinde bestaat uit buitenste gespleten behuizingen en de natte uiteinden, die waaier, slakkenhuisvoering, voor- en achtervoeringen zijn. De rotordelen omvatten de lagers, lagerbehuizing, as- en asmof, enz. Wanneer we drijfmestpompen leveren, kunnen we de blote schachtmestpomp alleen verzenden of kunnen we de pomp met motoren of motoren verbinden. Het is de klanten waar ze de drijfmestpomp of de pompset met motoren kopen.
SH-100E-drijfmestpomp is een bestseller uit het drijfmest-assortiment van KMO's. Het kan worden geïnstalleerd met stopbusafdichting, droge expellerafdichting en mechanische afdichting. MKB-drijfmestpompen worden meestal aangetroffen in mijnbouwsectoren en mineralenverwerkende en steenkoolwasinstallaties van zowel de Chinese binnenlandse overzeese markt.
SH-100E is een anti-abrasieve mestpomp. Als u een dergelijk en vergelijkbaar verzoek heeft, bent u meer dan welkom om met ons contact op te nemen voor technische oplossingen. We geloven dat u de bevredigende informatie van het MKB zult krijgen.

Slak slibsuspensiepomp SH-100E is identiek aan een van de wereldberoemde merken 6 / 4E-AH. De reserveonderdelen zijn voor 100% uitwisselbaar. Plus, waar METSO, GIW-drijfmestpompen worden gebruikt, kunnen ook worden vervangen door onze drijfmestpompen, en het enige verschil is dat onze pompen minder kosten in vergelijking met deze wereldberoemde fabrikanten.

Een korte introductie van de drijfmestpompen die wij aanbieden:
Slurry-pompserie:
1. Metaal Gevoerde Drijfmestpomp, SH Type; 2. Rubber-beklede drijfmestpomp (SHR-type); 3. Hi-Pressure Slurry Pump (SBH Type);
Gravel Pump-serie:
1. Hard metaalzandpomp (SG, SHG-type); 2. WN Dredging Pump (WN Type);
Opvangbak serie:
1. Metalen verticale drijfmestpomp (SV-type); 2. Rubber verticale drijfmestpomp (SVR-type);
Lokale pompserie:
1. Power Plant Slurry Pump (ZBG Type); 2. Kolenwassing drijfmest pomp (ZJ Type);
Schuim pomp serie
specificaties:
| | |
| --- | --- |
| Model | SH-100E |
| Outlet | 4-inch |
| Capacity | 162-360m3/h |
| TDH | 12-56m |
| Rated Motor Power | 120Kw |
| Speed | 800-1550r/min |
| NPSH | 5-8m |
Bouw van metalen drijfmestpompen: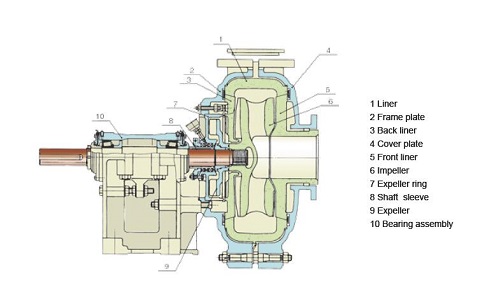 Standaard materiaal van natte delen: Hi-Chrome Alloy A05
| | | | | | | | | | | |
| --- | --- | --- | --- | --- | --- | --- | --- | --- | --- | --- |
| Designation | Material Name | C | Mn | Si | Ni | Cr | Mo | P | S | Hardness |
| A05 | Ultrachrome | 2.92 | 0.98 | 0.54 | 0.8 | 26-28 | ≤0.8 | 0.062 | 0.051 | 58-62HRC |
Typische applicaties:
afval
Zware mijnbouw
Ash Handling
Cyclone-feeds
Pulp en papier
Schurende slurries
Kolen voorbereiding
Verwerken van mineralen
Aggregate Processing
Zware weigering verwijderen
Prestatiecurve: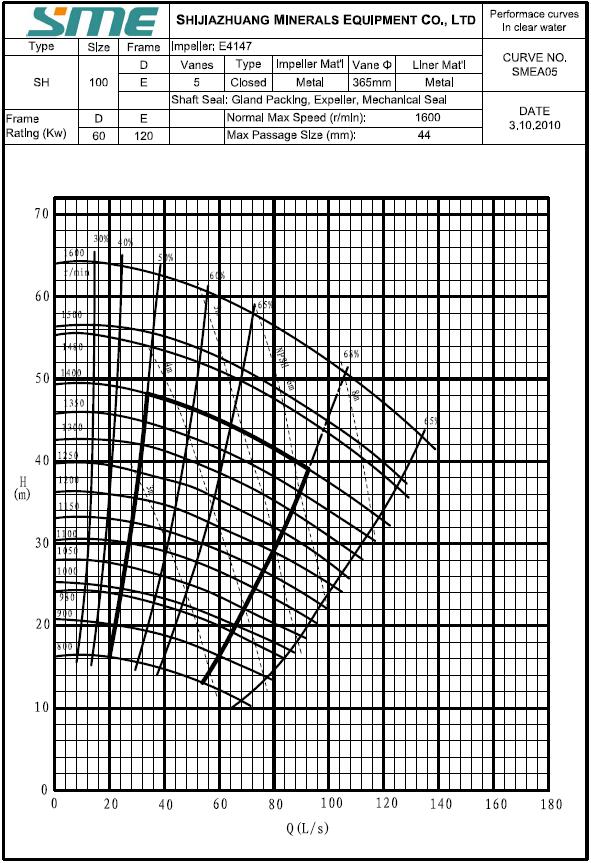 Projecten met MKB SH-mestpompen: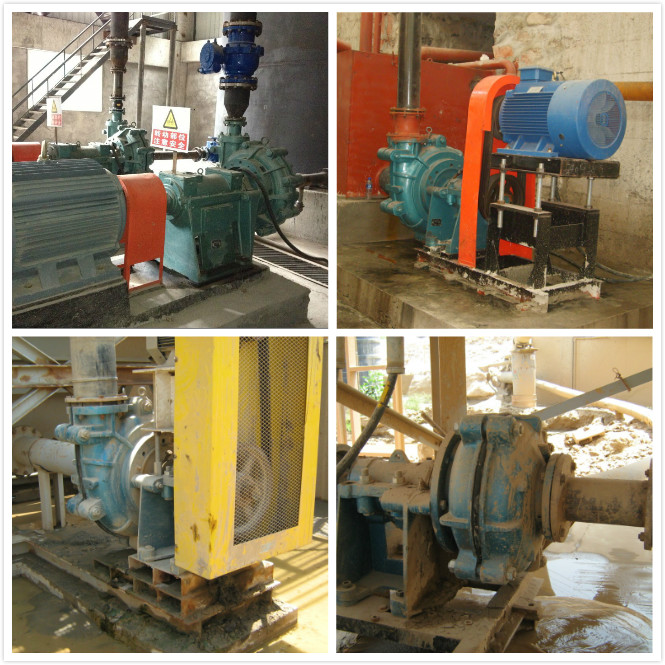 Product Categorie : Slurry Pomp > Metaal bekleed drijfmest pomp