Centrifugaal Horizontale dubbele frame drijfmestpomp
Invoering:
Een pomp is zowel een drukvat als een roterend apparaat. Alle standaard veiligheidswaarschuwingen voor dergelijke apparatuur moeten worden gevolgd vóór en tijdens installatie, gebruik en onderhoud. voorzorgsmaatregelen voor dergelijke apparatuur moeten worden gevolgd vóór en tijdens installatie, gebruik en onderhoud. Pompen mogen niet worden gebruikt bij lage of nulstromingsomstandigheden gedurende langere perioden, of in omstandigheden die ertoe kunnen leiden dat de pompvloeistof verdampt. Personeelsletsel en apparatuurschade kunnen het gevolg zijn van de hoge temperatuur en druk die wordt veroorzaakt. Pompen mogen alleen worden gebruikt binnen de toegestane grenzen van druk, temperatuur en snelheid. Deze limieten zijn afhankelijk van het pomptype, de configuratie en de gebruikte materialen.


We leveren niet alleen blanke slury pompuiteinden, maar ook elektromotoren, dieselmotoren, accessoires samengevoegd als een complete pomptang. Dit bespaart de klant veel tijd om leveranciers van deze apparatuur te vinden. Wij garanderen onze klanten dat u hoogwaardige drijfmestpompen, met metaal gevoerde drijfmestpomp en met rubber gevoerde drijfmestpomp van het MKB zult vinden, en u zult nooit spijt krijgen van uw beslissingen. Alle pompen worden geselecteerd op basis van de gegeven specificaties van de klant, om te zorgen dat elke pomp aan de vereiste voldoet, zodat de pomp probleemloos werkt.
We hebben onze drijfmestpompen, drijfmestpomponderdelen en complete drijfmestpompen naar meer dan 40 landen en regio's over de hele wereld geëxporteerd. Wij win het vertrouwen van onze klanten en krijg een goede reputatie door onze perfecte kwaliteitsgarantie en goede verkoopservice. Onze drijfmestpompen worden gebruikt voor verschillende industriële sectoren en kunnen worden gebruikt als mijnafval, drijfmestpompen, slurrypompen van kaolineklei en zelfs slurrypompen van glasvezels.
Met lage doorlooptijden en een attente klantenservice is het MKB een erkende leverancier in de productie van drijfmestpompen, pompreparaties, pompherfabricage en kwaliteitvervangende drijfmestpomponderdelen.
Een korte introductie van de drijfmestpompen die wij aanbieden:
Slurry-pompserie:
1. Metaal Gevoerde Drijfmestpomp, SH Type; 2. Rubber-beklede drijfmestpomp (SHR-type); 3. Hi-Pressure Slurry Pump (SBH Type);
Gravel Pump-serie:
1. Hard metaalzandpomp (SG, SHG-type); 2. WN Dredging Pump (WN Type);
Opvangbak serie:
1. Metalen verticale drijfmestpomp (SV-type); 2. Rubber verticale drijfmestpomp (SVR-type);
Lokale pompserie:
1. Power Plant Slurry Pump (ZBG Type); 2. Kolenwassing drijfmest pomp (ZJ Type);
Schuim pomp serie
Specificaties van Metalen Gevoerd Drijfmest Pomp SH / 50C:
| | |
| --- | --- |
| Model | SH-50CC |
| Outlet | 2-inch |
| Capacity | 39.6-86.4m3/h |
| TDH | 12-64m |
| Rated Motor Power | 55Kw |
| Speed | 1300-2700r/min |
| NPSH | 4-6m |
Constructie van met metaal beklede drijfmestpomp: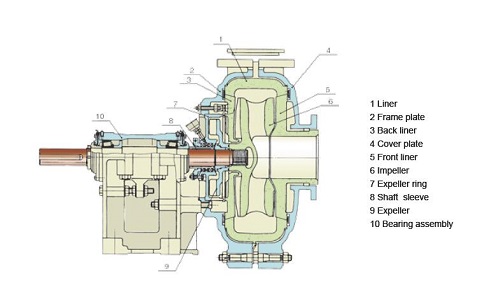 Standaard materiaal van natte delen: Hi-Chrome Alloy A05

Typische applicaties:
afval
Zware mijnbouw
Ash Handling
Cyclone-feeds
Pulp en papier
Schurende slurries
Kolen voorbereiding
Verwerken van mineralen
Aggregate Processing
Zware weigering verwijderen
Specificaties van de Slurry-pompen van de SH-serie:
Pump
Model
S×D
(inch)
Allowable
Max. Power (kw)
Material
Clear Water Performance
Impeller
Capacity Q
Head
H(m)
Speed
n(r/min)
Max.Eff.
η%

NPSH
(m)
No. of
Vanes
Vane Dia.
(mm)
Impeller
m

3

/h

l/s
SH/25B
1.5×1
15
Metal
(A05)
12.6-28.8
3.5-8
6-68
1200-3800
40
2-4
5
152
SH/40B
2×1.5
15
32.4-72
9-20
6-58
1200-3200
45
3.5-8
184
SH/50C
3×2
30
39.6-86.4
11-24
12-64
1300-2700
55
4-6
214
SH/50CC
3×2
55
39.6-86.4
11-24
12-64
1300-2700
55
4-6
214
SH/75C
4×3
30
86.4-198
24-55
9-52
1000-2200
71
4-6
245
SH/75D
4×3
60
245
SH/100D
6×4
60
162-360
45-100
12-56
800-1550
65
5-8
365
SH/100E
6×4
120
365
SH/150E
8×6
120
360-828
100-230
10-61
500-1140
72
2-9
510
SH/150F
8×6
260
510
SH/150R
8×6
300
510
SH/200F
10×8
260
612-1368
170-380
11-61
400-850
71
4-10
686
SH/200ST
10×8
560
612-1368
170-380
11-61
400-850
71
4-10
686
SH/250F
12×10
260
936-1980
260-550
7-68
300-800
82
6
762
SH/250ST
12×10
560
936-1980
260-550
7-68
300-800
82
6
762
SH/300ST
14×12
560
1260-2772
350-770
13-63
300-600
77
3-10
965
SH/350TU
16×14
1200
1368-3060
380-850
11-63
250-550
79
4-10
1067
Projecten met drijfmestpomp: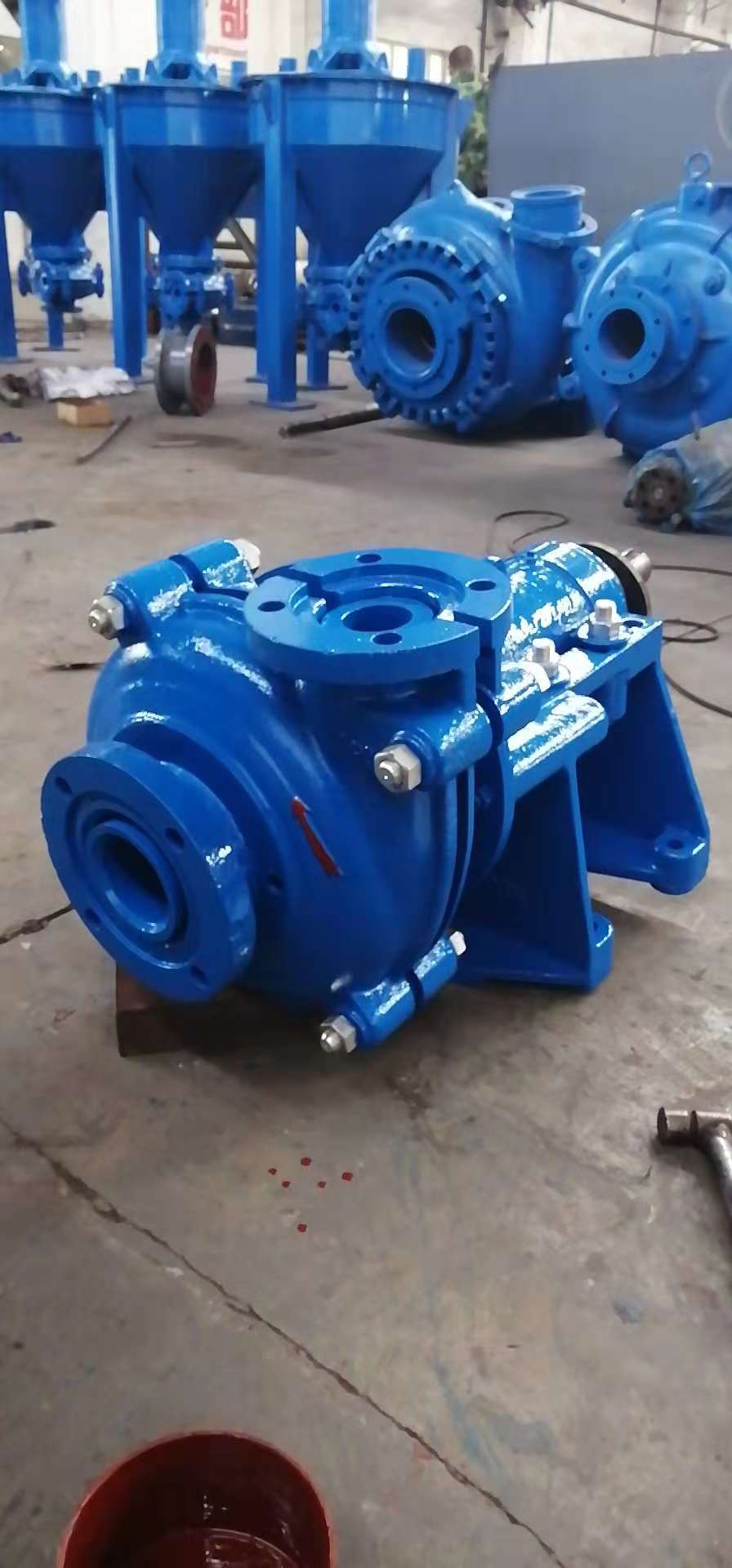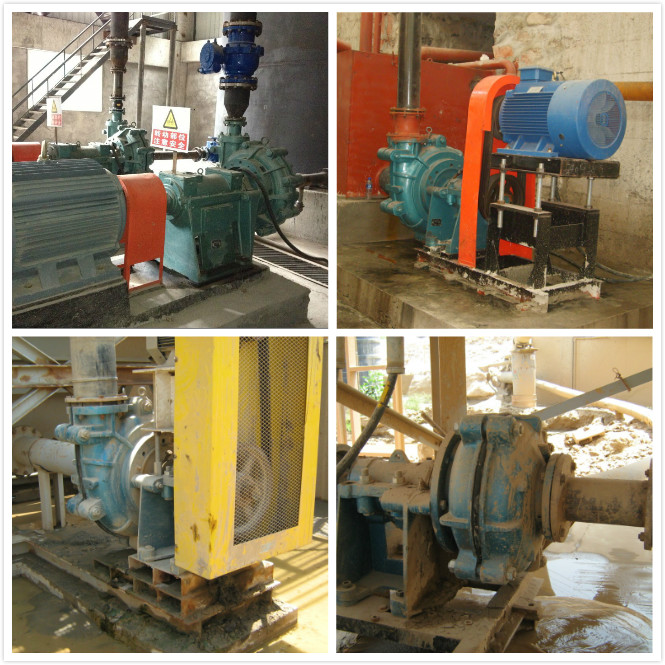 Product Categorie : Slurry Pomp > Metaal bekleed drijfmest pomp