Niet metaalhoudende verticale drijfmestpomp
Invoering:
Verticale pompen van het MKB bieden niet alleen uitstekende slijtvastheidseigenschappen, ze werken ook efficiënt om de bedrijfskosten verder te verlagen. Deze verticale slurrypompen kunnen volledig met elastomeer bekleed of met hard metaal zijn uitgerust. Er zijn geen ondergedompelde lagers of pakkingen met een uniek dubbel zuignap met hoge capaciteit. Optionele verzonken waaier en afzuigroerwerk zijn beschikbaar. Het innovatieve productontwerp en het breed configureerbare bereik helpen onze klanten hun kosten te verlagen. Bij SME zijn SV met metaal beklede sump-pompen, terwijl SVR in plaats daarvan met rubber bekleed zijn.

Kenmerken en voordelen van SME SVR rubber gevoerde verticale drijfmestpompen:

Weinig onderhoud en een lange levensduur, Laag energieverbruik, Minder slijtage van onderdelen, en dus zuinig. Op zoek naar met rubber gevoerde horizontale / verticale drijfmestpompen? Bel ons op +86 311 66692398.

Een korte introductie van de drijfmestpompen die wij aanbieden:
Slurry-pompserie:
1. Metaal Gevoerde Drijfmestpomp, SH Type; 2. Rubber-beklede drijfmestpomp (SHR-type); 3. Hi-Pressure Slurry Pump (SBH Type);
Gravel Pump-serie:
1. Hard metaalzandpomp (SG, SHG-type); 2. WN Dredging Pump (WN Type);
Opvangbak serie:
1. Metalen verticale drijfmestpomp (SV-type); 2. Rubber verticale drijfmestpomp (SVR-type);
Lokale pompserie:
1. Power Plant Slurry Pump (ZBG Type); 2. Kolenwassing drijfmest pomp (ZJ Type);
Schuim pomp serie
specificaties:
| | |
| --- | --- |
| Model | SVR-150S |
| Capacity | 72-504m3/h |
| TDH | 10-35m |
| Rated Motor Power | 110Kw |
| Speed | 5000-1000r/min |
| Max. Efficiency | 56% |
| Standard Shaft Length | 1800mm |
Bouw van de SVR-pomp: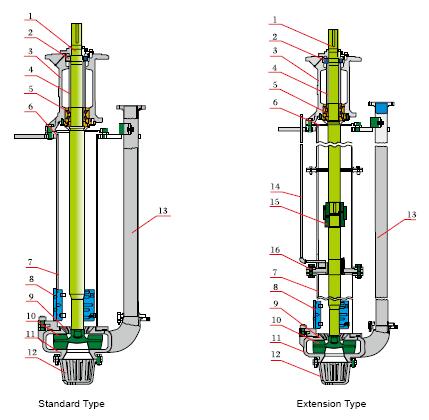 Materialen van de bouw:
| | |
| --- | --- |
| Part Description | Material |
| Casing | R55- Black Natural Rubber |
| Impeller | R55- Black Natural Rubber |
| Back Liner | R55- Black Natural Rubber |
| Shaft | Carbon Steel |
| Mounting Plate | Mild Steel |
| Strainers | Synthetic Rubber |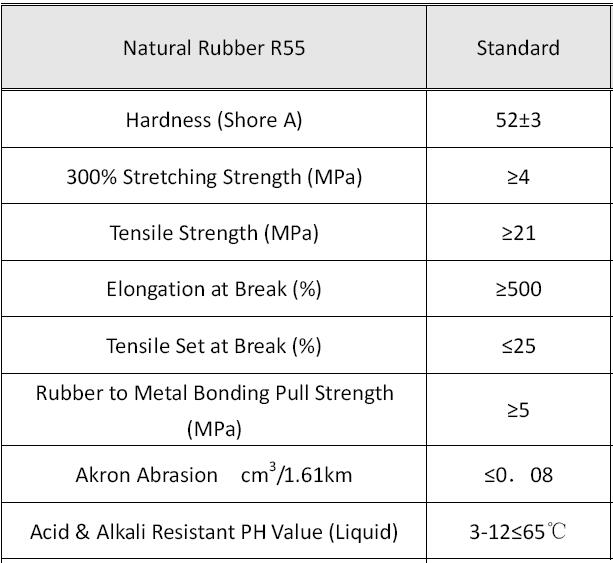 Prestatiecurve: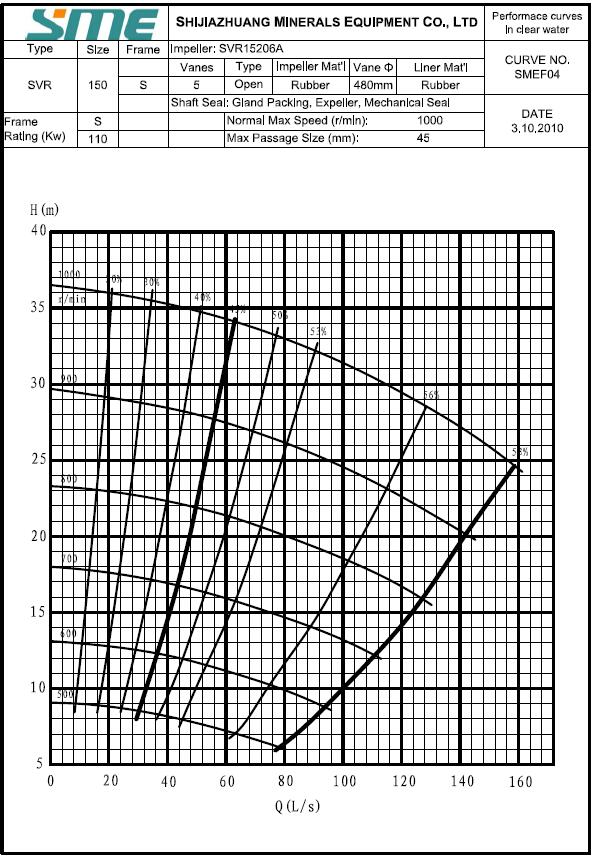 Verticale drijfmestpompen in gebruik:

Product Categorie : Sump Pomp > Rubber verticale drijfmest pomp